Your New Reading List for 2021? Check! FREE Report + BONUS E-book for Renegade Pastors from Nelson Searcy
Leaders are Readers — Save Time and Get Nelson Searcy's FREE Top 10 List on the Best Books of 2020 for Church Leaders! ($23.95 Value)
Plus Receive a FREE Digital Copy of Nelson's 152-page Book, The Renegade Pastor's Guide to Managing the Stress of Ministry ($19.95 Value)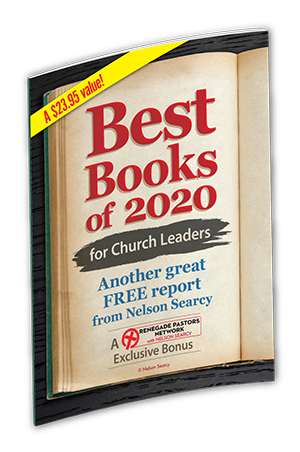 Your New Reading Resource - the Top Leadership and Strategy Books Every Renegade Pastor Should Read! A $23.95 Value - Yours FREE Today!
Don't waste your time searching on Amazon to find out what you should be reading right now — Nelson has already done the work for you! These are the best of the best – out of hundreds of books that he's read the past year.
It's FREE for you as a Renegade Pastor!
Nelson loves putting together this list because leaders are readers — and pastor to pastor, he's going to do everything he can to save you time and focus your attention where it needs to be for maximum growth and development.
Save yourself time, effort and money with this FREE list. Plus, to equip you further in 2021, you'll receive a FREE book from Nelson — a digital copy of his 152-page book, The Renegade Pastor's Guide to Managing the Stress of Ministry!
If the quality of the books released this past year are any indication, 2021 is going to be a banner year of learning, reading and growing for all of us. In this list you'll find:
A comprehensive guide to spiritual growth to help you build your life on a fully biblical foundation.
A culmination of the most important leadership development lessons from the last quarter century (the ultimate key to success may surprise you!)
Practical solutions for preventing problems rather than just reacting to them — with dozens of examples from real life problem-solvers
An engaging, well-researched and well-organized presentation and analysis of eight models of evangelism.
Critical lessons on leadership in times of struggle, unease and discord
Wisdom and insights from some of the most respected, cutting-edge and unique church leaders today — including marketing techniques, powerful worship and Scripture translation!
An engaging profile of courage and perseverance — how one exceptional leader in history overcame unrelenting challenges to keep both country and family together
New cognitive tools to help you avoid problems and make better decisions
A closer look at how Charles Spurgeon viewed the entire Bible and what formed his approach to ministry and preaching
A systematic approach to handling money in a God-honoring way so you can break free from financial stress
A new map to help churches combat the abuses of power, sexual abuse and spiritual abuse — and rise up to fulfill their true calling
And more!
PLUS: Pages of bonus content from Nelson on how to be a better reader and get the most out of what you read!
BONUS: FREE Digital Copy of Nelson's 152-page Book, The Renegade Pastor's Guide to Managing the Stress of Ministry ($19.95 Value)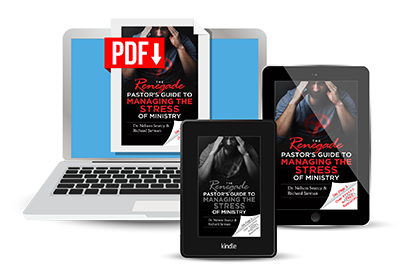 With your free Best Books list today, you'll also receive Nelson's powerful book for pastors on managing stress. You'll get all 3 digital formats of the book to work with your favorite book reader or device (.PDF, .epub or .mobi for Kindle). This book is a great addition to your ministry library — equipping you with Nelson's secrets to stress management that you can start implementing immediately!
Complete this brief form below to receive this exclusive Best Books list from Nelson for FREE!